Hello again, my sexy ponies!
♥
Graze boxes are cute lil collections of
healthy and nutritious snacks
delivered as often as you like to your door. My second one arrived this morning and
I love it
!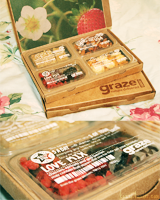 My Snacks This Week
Apple & Cinnamon Flapjacks
Born in the USA (pecans, cranberries & almonds)
Love Mix (cherries, apricots & goji berries)
Cheddar Gorge (cheese cashews, salsa corn sticks & herb crackers)
Mmm

get a free box!
If you live in the
UK
, go to
Graze.com
, click
"promotion or gift code? enter here"
and use this code when you sign up:

RHGCZ5YD

Then look through their huge range of snacks,
rate the ones you like the look of
, and they'll send you a selection of the things you rated highly!!
Note:
They ask for payment details when you sign up, but after you get your free box
you can cancel further orders very easily so you don't get charged for anything at all
. Or, if you love 'em, you can carry on getting them for their normal price!
Happy grazing!
♥
Do you love
vintage-inspired art
?
click here to join #Vintagenic!
Please
invite your friends
!
Is there an artist or group you
admire or adore
?
let everyone know with #dACompliments!
Share your thoughts
and make them smile!
love, kezzi
♥