Hello again, my sexy ponies!
♥
Aaah, I've been pretty absent again - had
so much going on
that I've barely been on my laptop!

Firstly,
I'VE FINISHED UNIVERSITY
!! The last 4 years have gone like a flash but I've loved every single one, and my final exams went really well. Afterwards we had
several days of celebration
, including a party around a firebowl in our friends' garden which
lasted until the sun came up
. I find out my overall grade in a week, then graduate in a month!!
Then I went to
Download Festival
, which I returned from yesterday - we spent 5 days drinking, jamming with strangers,
screaming along to bands
like The Offspring, Fall Out Boy, Bowling For Soup, Linkin Park, Steel Panther and Aerosmith, and getting generally filthy. The
weather was awesome
and I barely have a voice left!
Here's the look I went with on the Sunday
for Steel Panther and Aerosmith: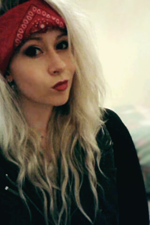 click to enlarge
Hawwt. So anyway, that's why I haven't been about for the last couple of weeks and now have a
totally massive backlog
! Apologies for the delay in replies, I've got
hundreds
to do so will work hard over the next few days now I'm finally relaxing a bit ;)
Lots of love to you all, and
let me know what you've been up to
over the last couple of weeks!
♥
Do you love
vintage-inspired art
?
click here to join #Vintagenic!
Please
invite your friends
!
Is there an artist or group you
admire or adore
?
let everyone know with #dACompliments!
Share your thoughts
and make them smile!
love, kezzi
♥